Jurassic World: Dominion Dominates Fandom Wikis - The Loop
Play Sound
Ain't College Great?

Season 6, Episode 3

Production Information
Director
Writer

Jeff Menell

Airdate

October 9, 1998

Episode Chronology
Previous
Next
Plot
Cory faces many new challenges now that he's all set at Pennbrook. Shawn wants him to not be so embarrassing, because they can remake their reputations. Cory fears the unisex bathroom and refuses to go in. One thing he's sure of, though, is the loophole to getting good classes. Instead of signing up for Intro to's and 101's, he decided to sign up for very advanced and confusing courses. As soon as he realizes his error (pointed out to him by his friends), he goes to his guidance counselor to help him fix his schedule, expecting some Feeny-like guidance. He's offered none, with the suggestion that he isn't fit for college.
Terrified, Cory flies to Jackson Hole, Wyoming to get real advice from Feeny. Feeny, though, isn't helpful either. Out of options, Cory decides that Feeny has picked the sweet life and retires as well, adjusting perfectly to the lazy life of laying around and fishing. Feeny can't stand it. He immediately takes Cory back to Pennbrook and gives Cory's guidance counselor, who happens to be his nephew as well, a stern talking to. He's unsuccessful, and admits to Cory that he feels as though he failed it. Just then, Cory's friends come near. They tell him they fixed his schedule, dropping a class or so each and signing him up. He has 2 classes with Topanga and 3 with Shawn. They all reflect on how Feeny prepared them for this, by teaching them how to be good people.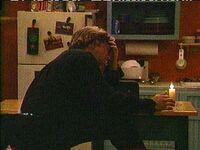 Meanwhile, when Rachel says she loves Jack for being sensitive and Eric for being funny, Eric decides to pretend to be sensitive to interest Rachel. His acting is overly done, as he wears black, stares at a candle, and moans about children. Miraculously, it works, as Rachel invites him to the laundry room alone. She acts as though she desperately wants Eric, but he pushes her away, telling her that if they were to be together, he'd want the real Rachel. Rachel says the same of him. Eric understands her point, and goes back to normal. When they return upstairs, Jack is riding a tiny tricycle in a clown suit. Rachel immediately decides to take him to the laundry room, while Eric chides him for taking his tricycle without asking.
Cast
Guest Cast
Trivia
Shawn mentions having no idea where his mother is.
Topanga mentions Ally McBeal.
Eric mentions Hooked on Phonics.