Alexandra Nechita as herself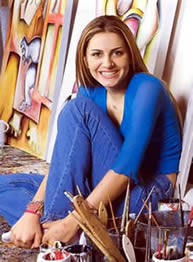 To see the dolphin trainer at Disney World, click here
Alexandra Nechita is a painting prodigy. She came into town for a display of her work, and met Cory at an art museum. She contradicted his interpretation of one of her pieces, causing him to patronize her for being a "little girl".
When he found out she was indeed who she said she was, he began developing an inferiority complex, noting how she was the same age as Morgan. Hearing this, she asked to meet her for socializing. After having fun playing video games with Morgan, she convinced her to follow her ambition and sing in a talent show.
Notes
Throughout "Better Than the Average Cory", everyone repeats how Alexandra and Morgan are the same age. Even though she is much taller and seems older, Alexandra is almost 2 months younger than Lindsay Ridgeway.