Amy Matthews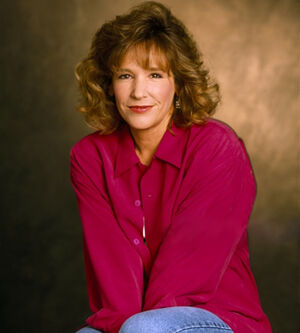 Amy Matthews is the mother of Eric, Cory, Morgan, and Joshua and a main character in all seven seasons of Boy Meets World.
She married Alan at the age of 19, and is still happily married. She is probably the calmest family member and always offers advice to her husband and children. Amy often has to have talks with Alan, due to the fact that he is very impulsive, and often says things he does not mean. She is generally a very understanding and nice person who only wants the best for her children. Throughout the series, it has become noticeable that she has a closer relationship with Cory and is firmer with Eric, while Alan is closer to Eric and is tougher on Cory.
Family
Mother: Nana Boo Boo
Husband: Alan Matthews
Children: Eric Matthews (son), Cory Matthews (son), Morgan Matthews (daughter), and Joshua Matthews (son)
Grandchildren: Riley Matthews (granddaughter) and Auggie Matthews (grandson)
In-laws: Topanga Lawrence (daughter-in-law)
Series Info
Married Alan at the age of 19, despite her parents telling her not to[1]
Worked in either the real estate business or the art dealing business, although later she seems to be a homemaker (this is considered a continuity error.)
In A Long Walk to Pittsburgh Amy was not upset about Topanga moving to Pittsburgh because she told Cory that with Topanga gone he could meet other girls and expand his horizons.
She was open about her lack of support Topanga's decision to go to Pennbrook (with Cory) instead of Yale
She joined Eric's creative writing class at Pennbrook in How to Succeed in Business, although she is never seen taking that (or any) course again.
She became pregnant with Joshua in Prom-ises, Prom-ises
She had Joshua in My Baby Valentine, although he had a respiratory lung infection and it looked like he would not make it. Joshua lived and got better in Resurrection
She stayed behind in Philadelphia while her 2 oldest sons went to

New York City

.
Alternate Personalities
Trivia
According to Alan, her favorite food is spaghetti and her favorite color is red.
References
↑ A Long Walk to Pittsburgh Part II