Anson Williams as himself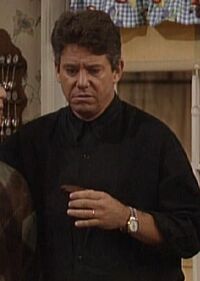 Anson Williams is an actor best remembered for portraying Potsie Webber on Happy Days, although he's also appeared on the notable TV shows Laverne & Shirley, The Love Boat, and Baywatch. Also, he's directed many TV shows including 7th Heaven, Beverly Hills, 90210, various versions of Star Trek, and Clueless among others.
On Boy Meets World
Anson Williams is a friend of Tom Bosley.
He admits to never having parents or a house, and only living at other peoples' houses.
He's also suspicious that Cory thinks he's somebody else.
Notes
Anson Williams, although he directly refers to himself by the name, clearly doesn't play his actual self on the show.