Plot
As Eric and Feeny discuss Feeny's unrequited love for Dean Bolander, a complication arises: Curtis Kincaid, Dean Bolander's ex-husband, shows up! Eric urges Feeny to act fast or lose her, but Feeny refuses to get involved. Wanting to help his mentor, Eric turns to Cory and Shawn, who cannot accept. Later on, when Kincaid upstages Feeny in his own class, Shawn and Cory finally agree that something must be done.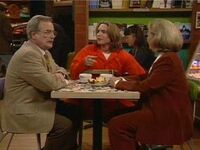 In what feels like a flashback to the old days, Cory and Shawn hatch a plan. They sneak into Kincaid's office and begin destroying things. When Feeny shows up, catching them, they run out, lock Feeny in, and go get Dean Bolander. When she asks what happened, Eric simply explains that it was an act of love culminating as an act of destruction. But Curtis is concerned that his prized discovery, a specifically-bred African killer bee, has escaped. It lands on Dean Bolander's face and he refuses to move it. Feeny steps up, snatching the bug from her face and getting stung in the process, earning Dean Bolander's love.
Cory and Shawn are giddy, feeling as though they are scot-free. But they have no such luck. They are sentences to wash every window on campus. As they do so, Cory admits that "Feeny's chick is tough."
Meanwhile, Rachel wants to go out dancing with Jack, but Jack is hesitant because he feels insecure about his height compared to hers. He tries to wear platform shoes, but Rachel finally convinces him to just go and not worry about it. On the way to the elevator, an old lady tells Jack, "She's too tall for you!" On the way back, he hears the same thing from another old lady. Back at their apartment, there is a burglar. Jack grabs a bat and threatens to beat them, but when he pulls off the prowler's mask, it is just another old lady who tells Jack that Rachel's too tall for him and walks off with his stereo.
Notes
A good portion of this episode is a play off The Godfather.
External Links