Better Than the Average Cory

Season 6, Episode 5

Production Information
Director
Writer

Lara Runnels and Patti Carr

Airdate

October 23, 1998

Episode Chronology
Previous
Next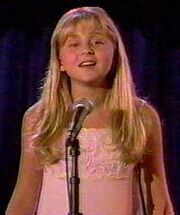 Plot
After meeting Alexandra Nechita at the art museum. Cory feels inferior because he has no special talents. After looking through his last place trophies and his poster of celery with Shawn, Cory confronts his father for raising him as only average. He even goes so far as to calling his father average. Later on, Topanga, Angela, and Shawn try to convince him to talk to his father, but his dad shows up at his dorm and drags him away to the dingy store Cory's grandfather used to work at. Alan tells him that when he was growing up, average looked pretty darn good. Alan walks away, and Cory feels sorry.
Meanwhile, Alexandra Nechita befriends Morgan because she has no friends her age to associate with on her travels. Morgan is nervous about performing in her talent show, but Alexandra tells her that if she really loves it, she should go for it. During her performance, Cory joins her in singing "The Wind Beneath my Wings" to his father from the audience. Even though he is horrible and distracting, Alan tells Cory he's no longer upset with him.
Also, Eric's fear of Rachel and Jack hooking up only gets worse when Jack saves Rachel from choking and she promises him anything for saving her life. Jack, not wanted to exacerbate their relationship, asks for only a peanut butter and jelly sandwich. Later on, Eric pretends to be dead so Rachel can save him, but she and Jack see right through his trick.
Cast
Guest Cast