Claire Ferguson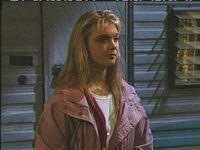 Information
Name
Claire Ferguson
Role
A classmate of Cory and Shawn who is beaten by her father
Portrayed by
Ariana Richards
Claire Ferguson is a friend of Shawn's who was beaten by her father. Cory and Shawn tried to help her at first by letting her hide out at their places, but eventually they called the authorities. She moved to live with her aunt in the countryside of Vermont.
There was a lot of initial hesitancy to call the police, though, for fear that they would not believe Shawn. Shawn felt as though he'd have more credibility because he was the successful owner of a bank. After the police were called, Claire's father joined a rehab center with hopes of one day reuniting with his daughter.
Extra
Ariana Richards, who plays Claire Ferguson, is most known for her role as Lex Murphy in Steven Spielberg's Jurassic Park.