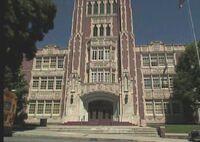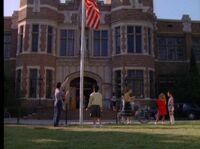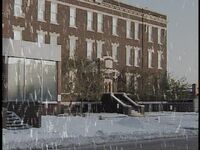 John Adams High is a high school to which many of the characters went from seasons 2 to 6. Eric graduated in season 3, as well as many others in season 5. Also, John Adams High had a limited faculty, where one teacher has many of the same students.
The school newspaper is called The Patriot Spirit. Cory starts writing for their funny column in Season 4, but it's generally agreed that his attempts at humor stink.[1]
Only one set is used to represent the halls of the school. In season 5, the 'senior floor' is used by turning the set sideways. Cory and Shawn express fear over the 'other side' of the school, in the direction of the camera, saying that "you go over there, you might never come back."[2]
Faculty
George Feeny, principal/teacher
Jonathan Turner, English teacher
Eli Williams, media arts teacher
Janitor Bud, janitor/Feeny's secretary
Janitor Hopkins, substitute janitor
Chet Hunter, janitor (temporarily)
Katherine "Kat" Tompkins, social studies teacher
Edwina Muncee, social studies teacher (formerly)
Ms. Bimbaum, biology teacher
Devon Collins, guidance counselor
Mr. Dubin, health teacher
Coach Franklin, coach
Miss Kelly, substitute health teacher
Dr. Sorrell, science teacher (formerly)
Bertha Van Bulow, lunch room lady
Miss Valentine, substitute teacher
Known Graduates
Erica Jackson
Phyllis Nakamura
Myra Zinkermane
Trivia
William Daniels played John Adams in the film 1776.
The school starts off as a grades 7-12 high school, as first seen in the second season, to a strictly grades 9-12 high school in later seasons
References
Community content is available under
CC-BY-SA
unless otherwise noted.