House of the Dragon Trailer - The Loop
Play Sound
Joshua Gabriel Matthews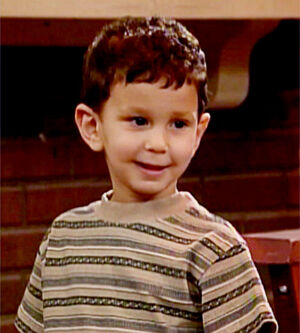 Information
Name
Joshua Gabriel Matthews
Role
The youngest child of Amy and Alan Matthews and brother to Eric, Cory & Morgan
Maya Hart's love interest (GMW)
Final Status
Accepted to NYU
Portrayed by
[[Daniel Jacobs (BMW)
Uriah Shelton (GMW)]]
Joshua "Josh" Gabriel Matthews is the third son of Alan and Amy Matthews. He was born with complications and after a lot of touch and go, baby Josh recovers and goes home with his parents. He's aged up in the series finale (played by Daniel Jacobs, son of executive producer Michael) and gets some knowledge imparted onto him by his older brother, Cory.
Family
Mother: Amy Matthews
Father: Alan Matthews
Siblings: Eric Matthews (brother), Cory Matthews (brother), and Morgan Matthews (sister)
Grandmothers: Bernice Matthews (paternal) and Nana Boo Boo (maternal)
Grandfathers: Poppy
Aunts: An unnamed paternal aunt.
Friends: Maya Hart, Lucas Friar, Farkle Minkus, and Zay Babineaux
In-Laws: Topanga Lawrence-Matthews (sister-in-law)
Other: Riley Matthews (niece) and Auggie Matthews (nephew)
Series Info
Trivia
Joshua is only portrayed by Daniel Jacobs in Brave New World, otherwise he is portrayed by various babies.
Daniel Jacobs' appearance as Joshua in Brave New World severely alters the continuity of the show, as he should be much younger. This is a continuity error.
Joshua has a recurring role in the sequel series Girl Meets World, appearing as a teenager who has a close relationship with his older brother Cory and niece Riley. He's played by a Uriah Shelton in Girl Meets World. He also becomes a love interest for Maya Hart.