Matthew William Lawrence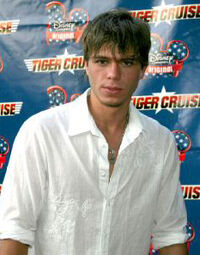 {{{Caption}}}
Name
Matthew William Lawrence
Date of birth
February 11, 1980 (age

Template:Age

)
Place of birth
Abington, PA
Character on Boy Meets World
Jack Hunter
Official Website
none
IMDb
IMDb profile
Matthew Lawrence (born February 11, 1980) is an American actor. He played the role of Jack Hunter, Shawn's half-brother and Eric's roommate.
Background
His father changes his surname from the Italian "Mignogna" to "Lawrence" before Matthew was born.
Was born on February 11, 1980 to Joseph Lawrence Sr. and Donna Shaw in Abington, PA.
Has 2 brothers, Joey and Andrew, both of whom are actors as well.
Began acting in the 1980's and got his first major role in the Robin Williams movie Mrs. Doubtfire.
Dated Danielle Fishel for a time.
Starred in the 2002 Rob Schneider movie The Hot Chick.
Enrolled in the University of Southern California in February, 2002 and is currently attending with his brother, Joseph.
Has a passion for biology and many pets: 2 dogs and several chameleons.
Was engaged to actress Heidi Mueller from December 2004 to February 2006.
Trivia
In the TV movie Jumping Ship, Matthew Lawrence plays a character named Jake Hunter. This is likely a reference to his role as Jack Hunter in Boy Meets World.
Matt can play the guitar & sing. Matt's musical moments happened on the Macy's Thanksgiving Day Parade (1986 & 1991), two episodes of Gimme A Break & Brotherly Love, and on As Time Goes By in Boy Meets World.
Despite his character Jack Hunter being the older half-brother of Shawn Hunter, Lawrence is actually 2 months younger than Rider Strong.
He shared a last name with Topanga Lawrence (until she married Cory, and became Topanga Matthews), and his first and last name are the same as Cory and Topanga's last names (Matthews and Lawrence).
Gallery