Spider-Man: No Way Home Trailer Dropped - The Loop
Play Sound
Plays With Squirrels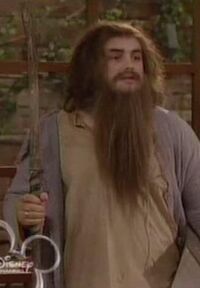 Information
Name
Plays With Squirrels
Personality of
Eric
Description
An insane hermit.
"
Insane? Well, if giving up all your worldly possessions, renouncing society and learning to purify and drink your own urine is insane, then, hmm, yes, color me insane.
"

—Plays With Squirrels
Plays With Squirrels is an alternate personality of Eric in the future reality in Seven the Hard Way. After graduation, Eric changed his name, and gave up all his worldly possessions to live as a hermit. Squirrels dresses like Noah, and is happily married to a moose. He also purifies his own urine and drinks it for sustenance, and has grown incapable of utilizing the Feeny Call from lack of use.
Plays With [aka Mr. Squirrels] decided to spend his time writing a compendium of all his knowledge in a very large book titled Mi Manifesto, or The Secret of Life. However, he only wrote one line: "Lose one friend, lose all friends, lose yourself." When asked why he didn't write anything else, he replied, "Because nothing else seemed important."
Trivia
Eric also appears as Mr. Squirrels during his debut in Girl Meets World.
Theatrical Note: His actions, his name, and the beverage of choice all appear to be an homage to the parts played by Kevin Costner in various popular films, namely: 'Dances With Wolves', 'Waterworld', and 'The Big Chill' - in which he briefly portrays the deceased Alex, the character around whom his friends reunite after a long period of estrangement.