Rhiannon Curtis/Lawrence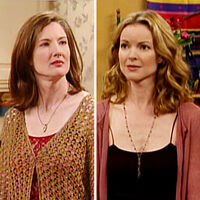 Rhiannon Curtis (previously Lawrence) is Topanga's mom and the ex-wife of Jedidiah Lawrence. She loves her daughter, and also seems fond of Cory, for whom she made many peanut butter and jelly sandwiches for as a child. She allowed Topanga to stay in Philadelphia when she and Jedidiah moved to Pittsburgh because she did not want to take Topanga out of high school in her senior year. However, she also attempted to take the opportunity to resolve issues with her husband, which she did not reveal until State of the Unions.
Rhiannon first appears when the Lawrences meets the Matthewses to plan Cory and Topanga's wedding. She and Jedidiah do not get along very well, and they announce that they intend to divorce. She hopes that their decision does not affect Cory and Topanga's relationship.
Cory, devastated by the loss of Topanga (who had left him because her faith in love was shaken by her parents' divorce), confronts Rhiannon in Pittsburgh to persuade her to see her husband. He does not understand the situation, and is pleased when she says she'll try to forgive him. What he is missing is that Jedidiah had left Rhiannon for another woman, Marie.
Rhiannon came to Pennbrook to tell Topanga the truth about the divorce, and she told Topanga that every relationship stands on its own, and she was pleased with her marriage despite it's outcome. This convinced Topanga to reunite with Cory. Rhiannon was also present at her daughter's wedding.
Family
Mother: Rosie McGee
Children: Topanga Lawrence-Matthews (daughter)

Topanga also had a sister named Nebula Lawrence, presumably meant to be a full sister, but she was a continuity error in the show, as she was never mentioned following season 1. She no longer exists.
Sibling: Prudence Curtis (sister)
Grandchildren: Riley Matthews (granddaughter) and Auggie Matthews (grandson)
Notes
Topanga refers to Rhiannon as 'Chloe' in the episodes Cory's Alternative Friends and Boy Meets Girl. This is considered a continuity error.
Cory also referred to her as 'Miriam' in season 3.
It is hard to pinpoint when Rhiannon was born, particularly if her mother had not had any children out of wedlock.  By the end of 1961, her mother's last name was still McGee (not Curtis), and it is implied that she did not have any children yet and was not in a serious relationship.  However, there is a little wiggle room. If Rosie had gotten married shortly after the events of Girl Meets 1961 and had a child (Rhiannon) in 1962, Rhiannon would be 18 in 1980, the year Topanga was born*
While Topanga was initially, like Cory and Shawn, born in 1982, the season 2-4 timeskip ages them up by two years, altering their birth years to 1980.
Community content is available under
CC-BY-SA
unless otherwise noted.