Doctor Strange in The Multiverse o Madness - The Loop
Play Sound
Starry Night

Season 5, Episode 20
Production Information
Director
Writer

Barry Safchik

Airdate

April 3, 1998

Episode Chronology
Previous
Next
Plot
In the park, Cory tells Shawn of how much he misses Topanga for the thousandth time. In the museum, Topanga tells Angela how she really misses Cory. She says that she was supposed to go with Cory, and being there without him feels weird. But an attractive boy, Ricky Ferris, distracts her. They begin to talk about Van Gogh's "Starry Night," and they talk all day until the museum closes. Ricky asks for a date, and Topanga is hesitant, but Ricky says it only has to be a date if she considers it a date, all he wants is to have dinner with her. After Ricky leaves, Topanga confides in Angela that she doesn't know what to do. Angela tells her to go, but Topanga insists on giving Cory a chance first.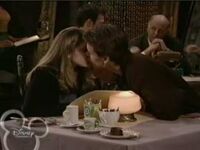 The next day, Topanga brings Cory to the museum. She shows him the painting and asks him what he sees. He tells her he sees an attack, which angers Topanga. They begin to argue, and Topanga tells Cory about how she saw God protecting the village, just like Ricky had told her. He says that he sees God ending the world, because God is upset with how "certain people are treating certain other people." They argue again, and Cory says he knows they'll end up together, but she still needs to find out. He exits, telling her she knows where he'll be.
On their date, Topanga and Ricky are getting along very well. They're talking about their parents and love and Paris, and then Ricky kisses Topanga. At school the next day, Shawn gets in a heated discussion with Angela about how she told Topanga to go on the date. When Topanga tells her that she'd never had a more important kiss, Angela tells Shawn that Cory's relationship is over. Shawn tells Cory later on, but he doesn't seem fazed. He admits it feels weird to be the only one that has hope for him and Topanga. Elsewhere in the hallway, Topanga recounts her date. She says she knew from the minute she saw him that she loved him, and that the kiss was very important. She says she loves Cory. When she kissed Ricky, she felt nothing, and that's why it was so important.
That night, Topanga meets Cory on the monkey bars, where they had met as young children. They get into a discussion. Topanga says she understands how he could've been kissed by Lauren and have it not mean anything. Cory says he looked at "Starry Night" again and finally got what Topanga saw after half an hour of looking at it, telling her that he needs her because he doesn't see things like that as fast as she does. They kiss, and officially get back together, proceeding to then stare at the stars, arm in arm.
Cast
Guest Cast
Trivia
External Links