The Ghost of Christmas Future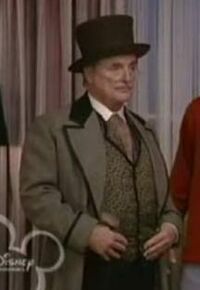 Information
Name
Cory calls him "Feeny"
Personality of
Feeny
Description
A ghost who shows Cory what his life will be like without Topanga, but he looks like Feeny in a doorman outfit
The Ghost of Christmas Future appears to Cory after he falls asleep watched "A Christmas Carol" on TV following a disagreement with Topanga. Because he looks just like Feeny, Cory calls him Feeny.
First, the Ghost of Christmas Future shows Cory his life without Topanga. He is fat, lonely, and he lives with Eric. Next, he shows him Topanga's life. She is married to Jack and they have 3 kids. Despite how Cory feels, she has compromised with Jack and has an aluminum Christmas tree. The scene disturbs Cory, and the Ghost takes him home.
Community content is available under
CC-BY-SA
unless otherwise noted.